Big, big, BIG news today guys!
For the past few months I've been quietly working on a new project for the MPMK shop that I am so incredibly excited to share with you guys. It's a Kids' Responsibility & Money Management Kit.
As the name implies, it includes all kinds of awesome printables to teach your kids how to be responsible and learn to manage money, from routine charts and chores lists to money ledgers and savings sheets and more.
It officially goes on sale August 25th – but here's the really good news…
For 1 week only, I'm teaming up with some of my all time favorite bloggers (I Heart Organizing, A Bowl Full of Lemons, Tomkat Studio, and The Handmade Home just to name a few!) to offer a super amazing Back-to-School Printables Bundle!
THIS BUNDLE IS NO LONGER AVAILABLE – LOOK FOR THE KIDS' RESPONSIBILITY & MONEY MANAGEMENT KIT THE LAST WEEK OF AUGUST!
August 1st – 9th Only: Over 90 Printables to Get Organized Before School Starts at 78% Off!
Here's everything you need to know…
It's back to school month and time to get your house, kids, and schedule back in order.  This calls for another fabulous printable bundle!  Only this time, it's going to be a little bit different. Our brand new printables are exclusive to this sale only.
These are brand new, never before seen creations designed from nine of the most talented bloggers online.
This bundle has everything you need to start the school year off right.  From menu planning, chores, and schedules, to first day of school pictures, labels and beyond.  It's all included in this one of a kind bundle.
You will not see duplicate kits that have been featured in other bundle sales before. These are all brand new!
From August 1st to the 9th, you will have a chance to purchase this organizing back-to-school bundle.  You don't want to miss out. It's a good thing.
What's included in the Back to School Printable Bundle?
You will receive 9 exclusive printable pdf kits (93 pages) in this fabulous bundle. The digital files can be printed out &  used in planners, home management binders or even placed on your fridge.
This exclusive bundle is 78% off the retail price!
A Bowl Full of Lemons –  First Day of School Signs
Clean Mama – School Information Kit
Organizing Homelife – Homeschool Planner
The Handmade Home – 25 Toy Organization Labels
iHeart Organizing – Menu Planning Kit
TomKat Studio – Lunch Box notes
Simplify 101 – Back-to-School Planning Kit
Modern Parents Messy Kids – 

Kids' Responsibility & Money Management Kit

Jones Design Company – K-12 School Memories Kit
$90 – Only

$20 

This Week Only!
That's 78% Off Retail Price!
How much does the bundle cost?
The Back to School Printable Bundle is only $20. That's an amazing 78% off the retail cost of the kits!
How long is the bundle for sale?
The bundle will be available from 8am EST on 8/1/14 through 11:59 pm EST on 8/9/14. There are no exceptions.
Listed below are the pictures, details, and links to the 9 exclusive kits within the Back to School Bundle. If you have any specific questions about a kit, please email the blog associated with the kit.
For general Bundle questions, you can contact the bundle hosts at back2schoolbundle at gmail.com. Please look at the FAQ page before emailing with questions.
All kits are pdf files and will be sent to you in a zip file, once payment has been made (instant download). All files are 8.5 x 11 inches unless stated in the description. Visit the FAQ page for details on how to resize the pages to fit into smaller planners.
_____________________________________________

Stephanie Morgan is the founder and managing editor of Modern Parents Messy Kids (MPMK for Short).
From "Project Organize Your ENTIRE Life" to "The Make Play Vault", her site provides thousands of parents with daily inspiration on kid-friendly food, play ideas, parenting topics, home organization and what to do with all those photos!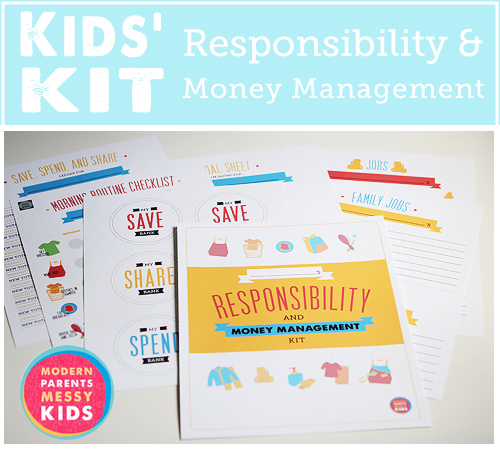 Kids' Responsibility & Money Management Kit (11 Pages)
A $7.99 Value
Teaching our kids to be contributing members of the family through routines, "family jobs" and "earning jobs" is one of our most important roles as parents.
Not only does it instill within them responsibility and self-reliance, when done right, it also serves to teach fundamental life skills including saving, budgeting and even giving back.
Our new Kids' Responsibility & Money Management Kit has everything you need to get kids of all ages started on the right track including:
Morning and evening routine charts (blanks and using images for pre-readers)
"Family Jobs" and "Earning Job" charts
A Kids' budgeting Ledger
A Savings Goal Chart
Printable Spend/Save/Share piggy bank labels



_____________________________________________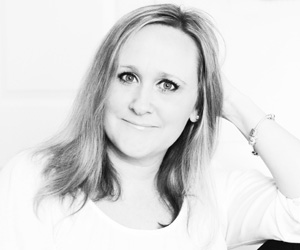 A Bowl Full of Lemons is a popular lifestyle blog that focuses on "home keeping".  You will see an array of topics such as organizing, cleaning, budgeting, planning, & preparedness. 
Whether it's cleaning up your finances & getting on a budget, finding a cleaning routine that works for you, or setting up a system of organization within your home, A Bowl Full of Lemons is there to help guide you.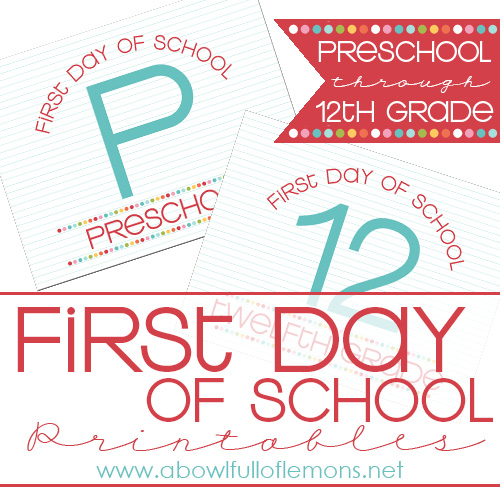 First Day of School Signs (15 Pages)
A $7 Value
First Day of School Signs are perfect for those must have pictures of your growing children.  This 15 page kit includes Preschool through 12th grade.
Have your children hold up a sign and take a snapshot of them on the porch, in front of the school, or in their childhood bedroom.  Print them out year after year!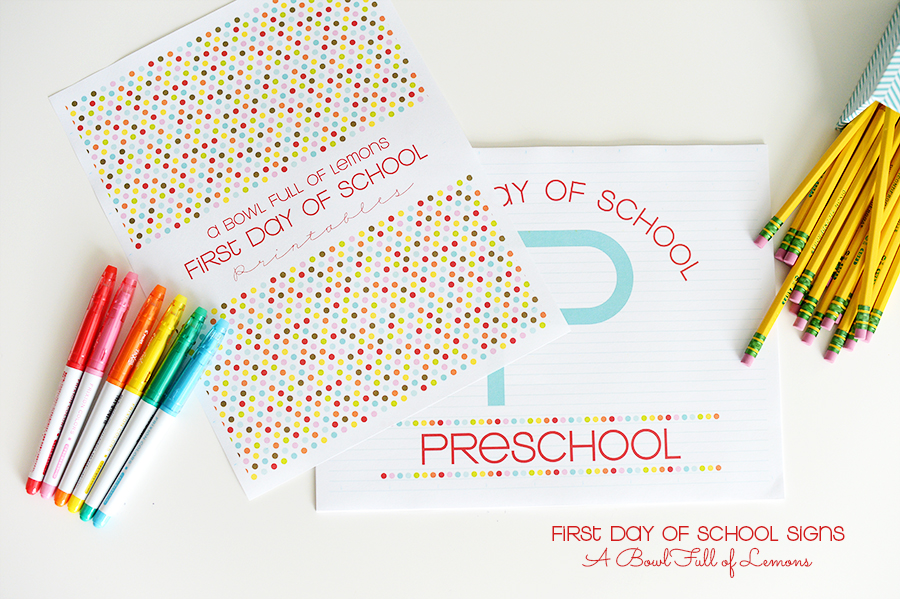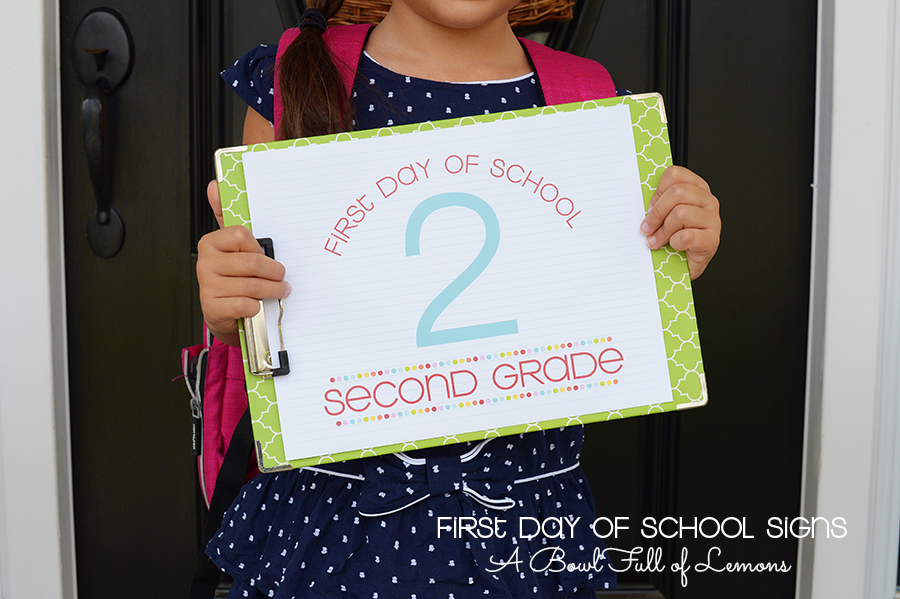 _____________________________________________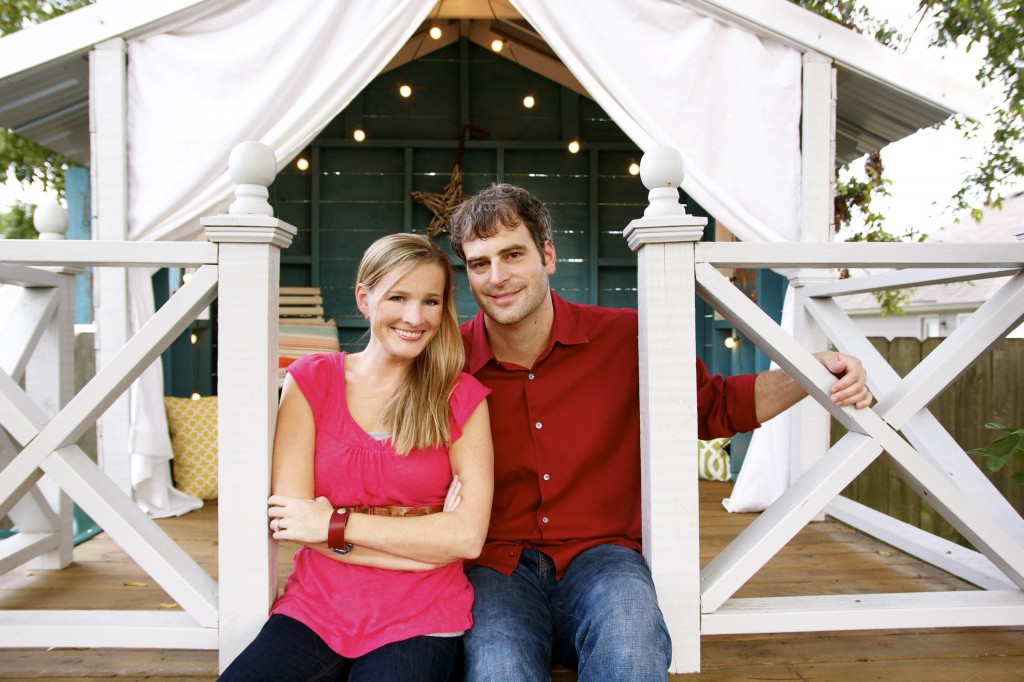 You can find Jamin and Ashley Mills as the voices and inspiration behind the Handmade Home, where they share their life, DIY spirit, inspiration and humor.
The two not only co-create a space on the web for beauty, laughter and love, but have also co-authored 4 books in the Handmade Home Book series. They currently reside in the tropics of Alabama where they have perfected the art of sipping sweet tea while operating power tools.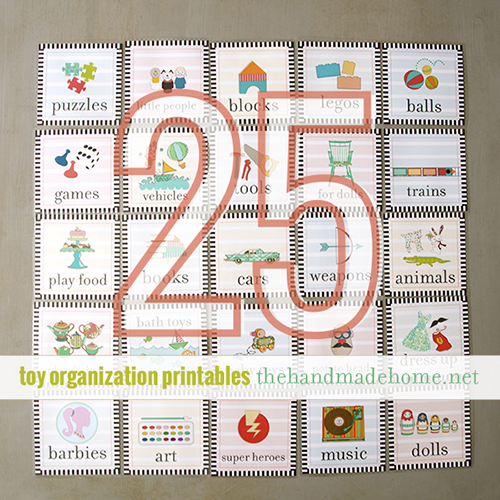 Toy Organization Labels (15 Pages)
A $10 Value
The Handmade Home Printables include 25 Toy Organization Labels.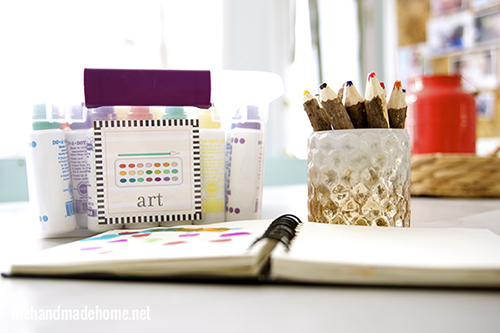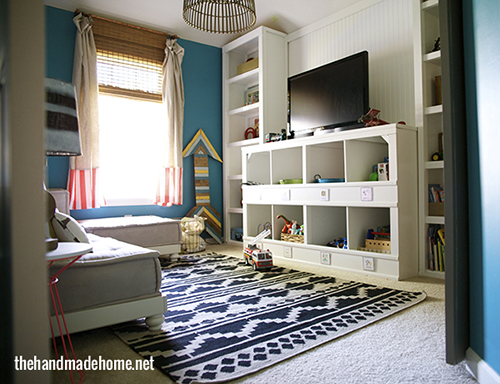 _____________________________________________
$90 – Only

 $20 

This Week Only!
That's 78% Off Retail Price!

_____________________________________________


Give a little extra life to your everyday checklists and printables with the help of IHeart Organizing!  Vibrant colors and patterns will keep you smiling as you tackle organizing projects big and small.  Just download and print at home.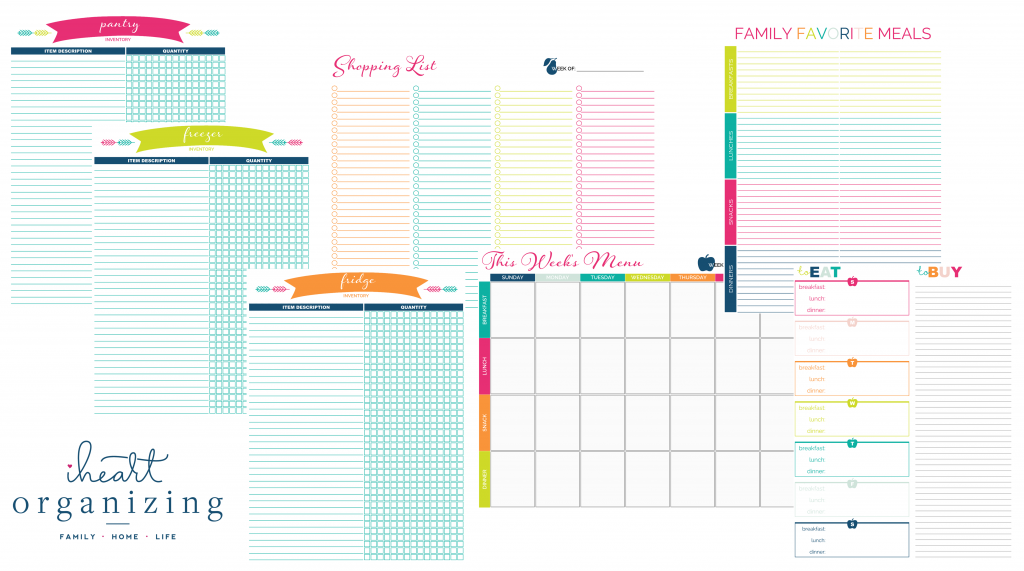 Menu planning Kit (7 Pages)
$10 Value
With the kiddos heading back to school and the sports season getting back in full swing, be ahead of the game with your daily meals.
This kit will give you a place to jot down your "go to" family meals and school lunch ideas as well as plan around those busy schedules.  Baseball game on Tuesday?  No need to hit the drive through because you will have already planned sub sandwiches ahead of time. 
Lacking variety in everyday lunch packing?  Keep an ongoing list of ideas to reference each week.  It also gives you a chance to take inventory of your stock so you can plan around the food you have, saving you time and money at the grocery store!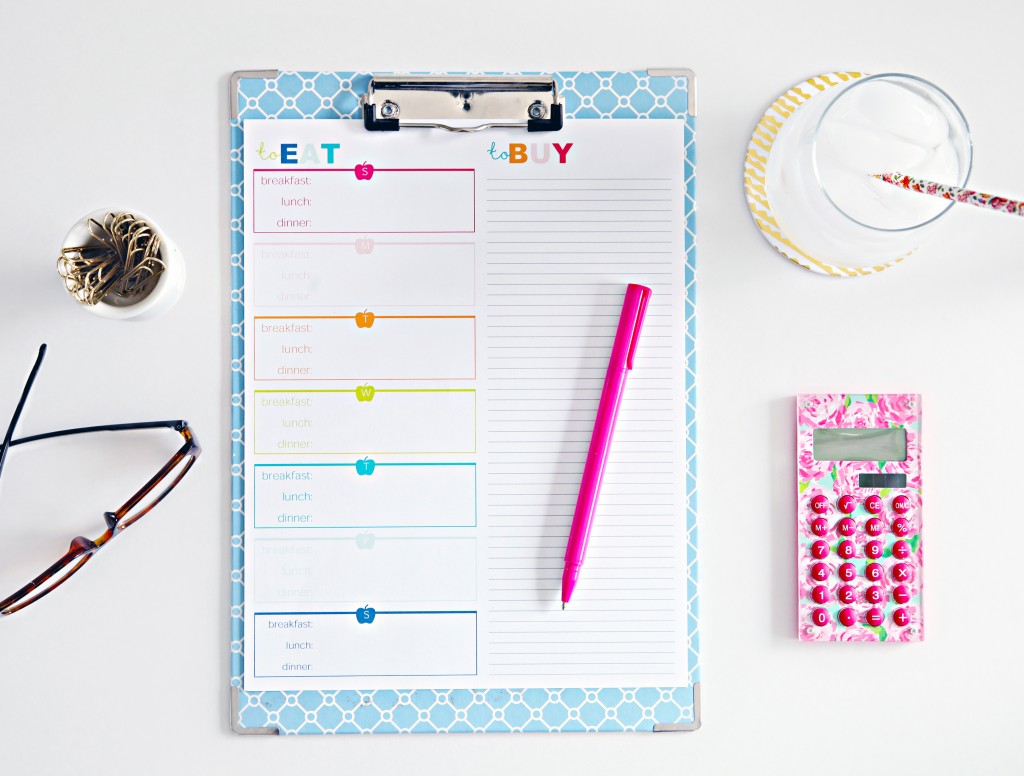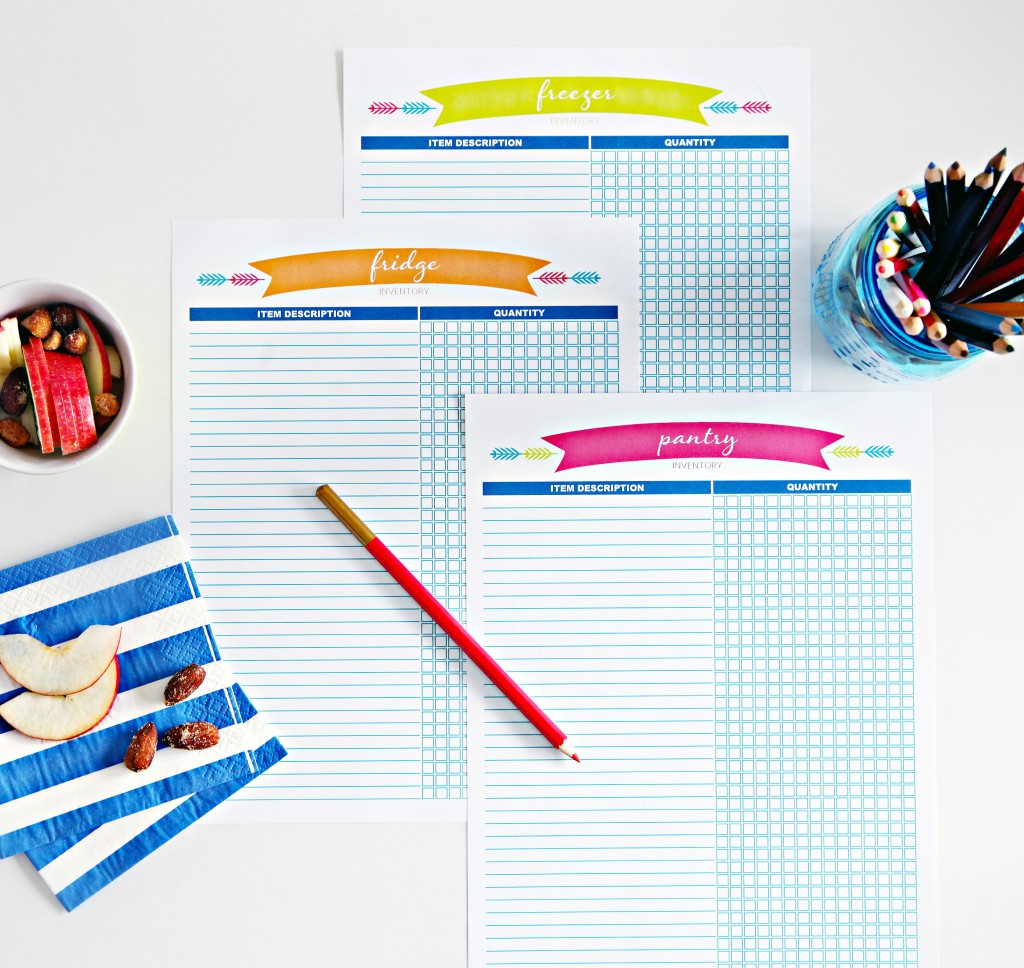 _____________________________________________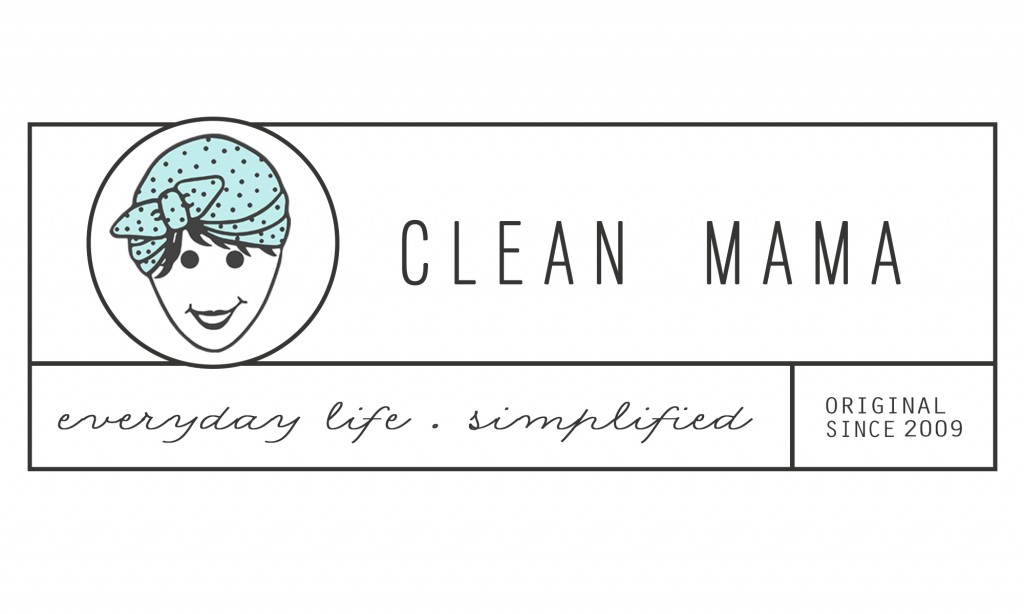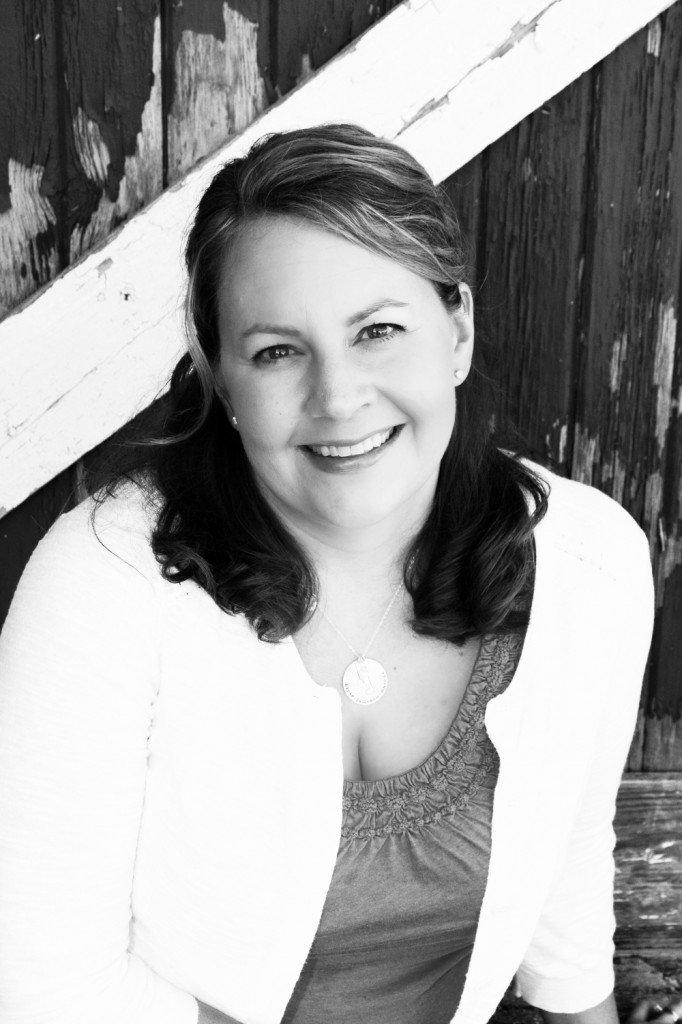 Becky (Clean Mama) is a cleaning expert, a wife and mom to three, a business owner, an author, and a former art teacher. She's always looking for new ways to simplify and streamline cleaning and organizing. 
Her shop, Clean Mama Printables specializes in original organizational documents designed to take the work out of organizing your life.  The Clean Mama mantra is "everyday life. simplified." because homekeeping can be adorable, fun AND easily implemented into your life!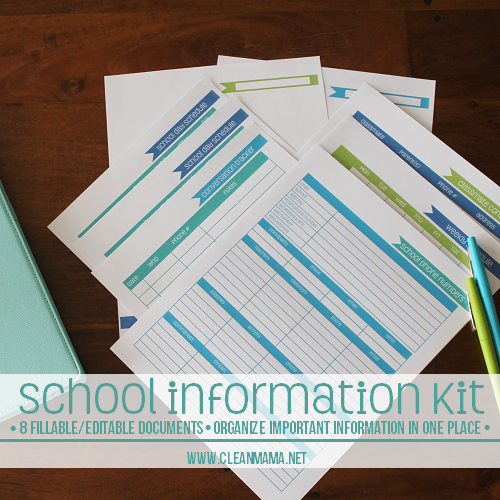 School Information Kit (8 Pages)
A $15 Value
The Clean Mama Printables School Information Kit includes 8 fillable/editable documents designed to help you keep all that important information together with one simple to use kit. 
Get organized with 2 cover sheets to choose from, classmate contacts, 2 school day schedules to choose from, school phone numbers, weekly schedule, and a conversation tracker. 
You'll love how easy and accessible this kit will make all that important school information.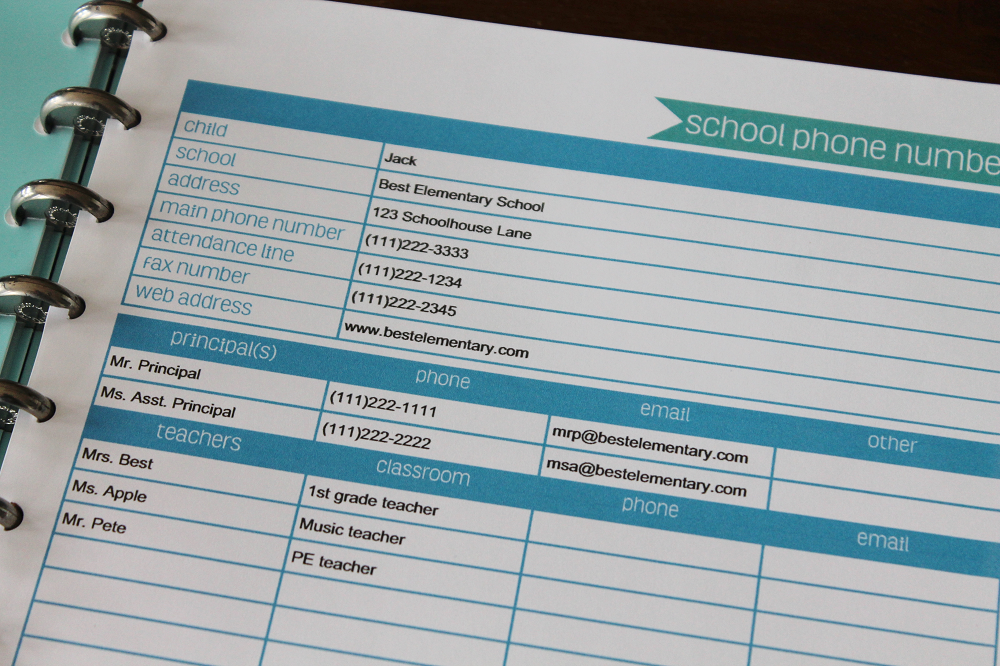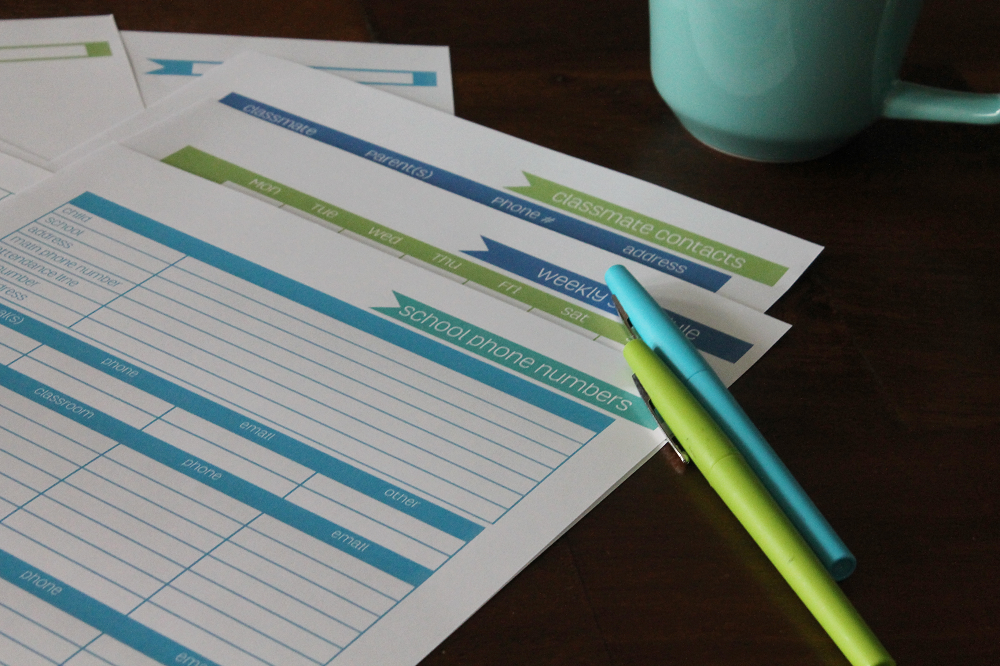 _____________________________________________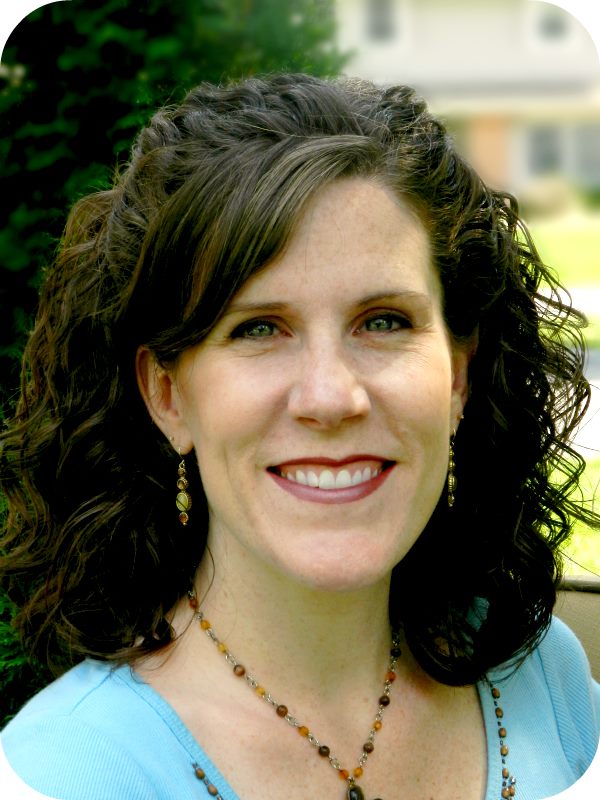 Organizing Homelife is a blog dedicated to helping you organize your home and life.  You'll find home management tips and tricks, DIY ideas and inspiration, menu and recipe planning, labels, schedules, and lots of printables (both free and in my shop). 
My goal is to inspire you to get organized so you can enjoy more time doing the things you want to with the people you love.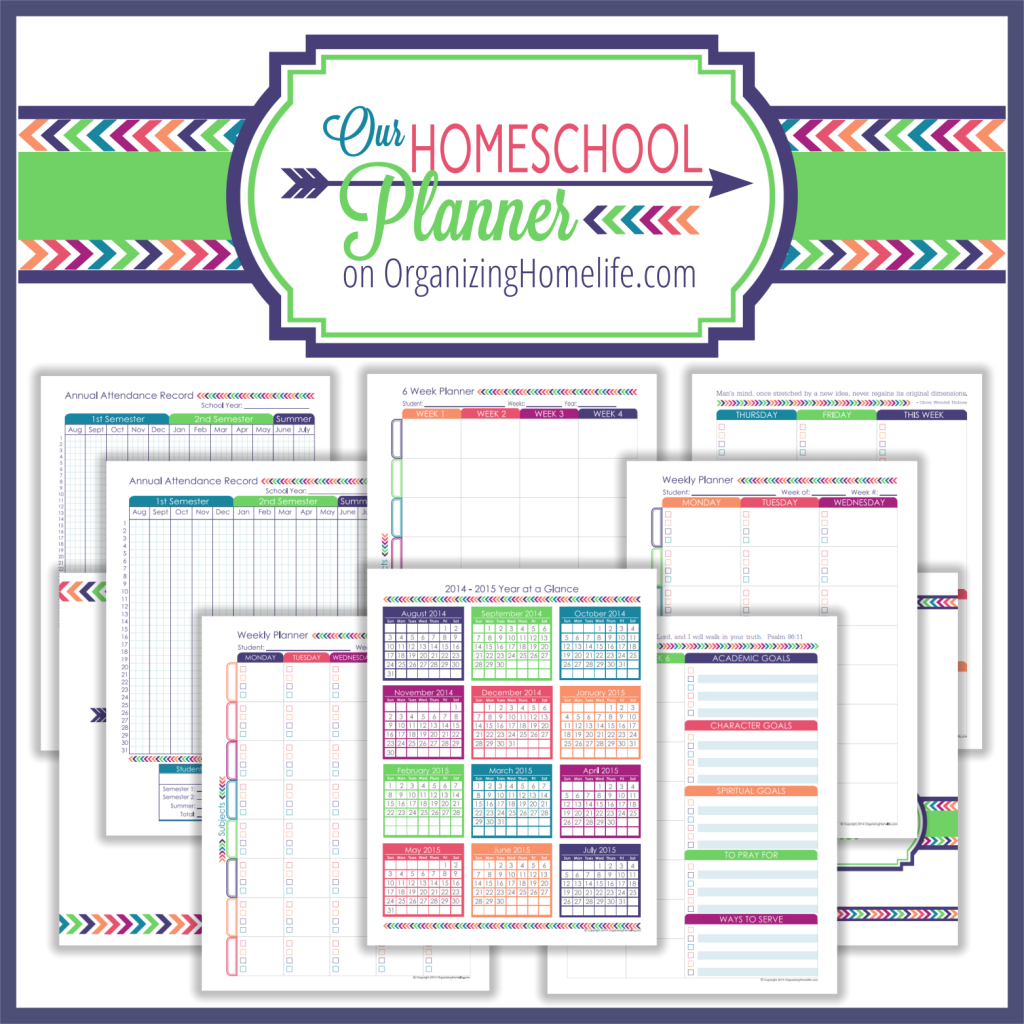 Homeschool Planner (10 Pages)
A $12 Value
This 10 page printable Homeschool Planner is a result of over 10 years of homeschooling experience. 
I have homeschooled all four of my kids and am currently teaching a Kindergartener, 3rd grader, middle schooler, and high schooler. 
This planner will help you organize annual attendance records and planning schedules.  It includes a year-at-a-glance calendar, a six week planner which also includes goal setting (great for planning in manageable chunks), 2 weekly planners (1 page per week and 2 pages per week), and two styles of covers.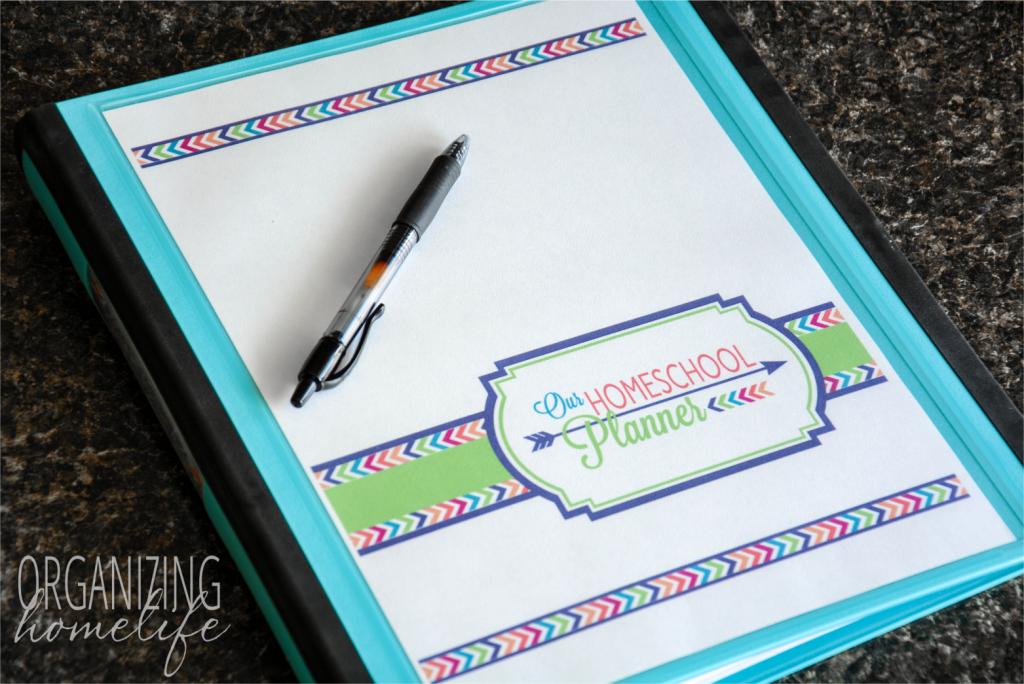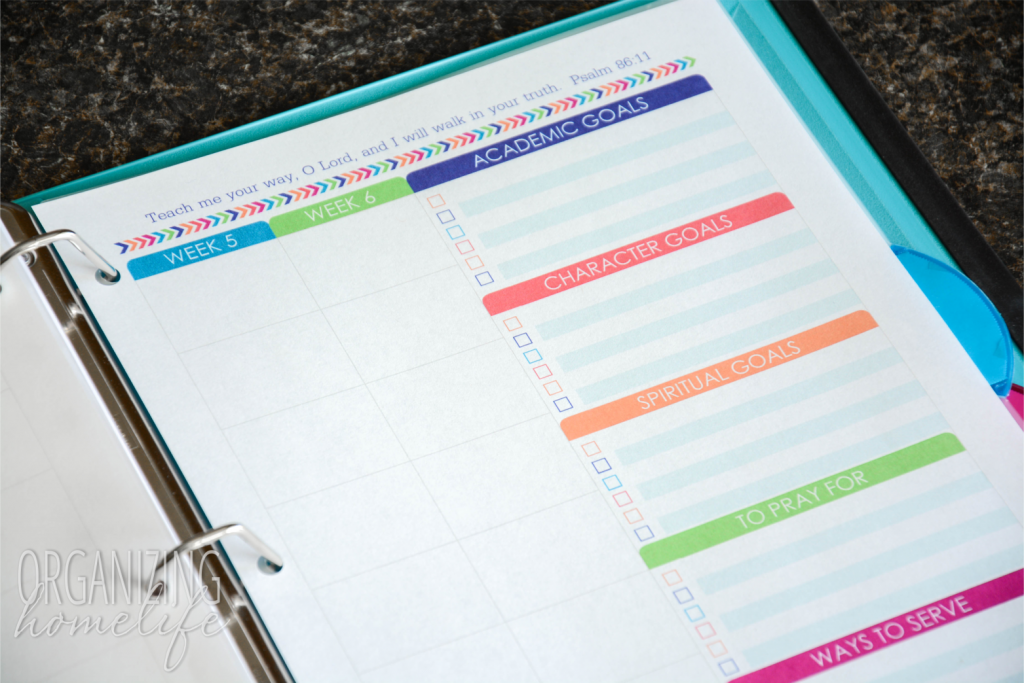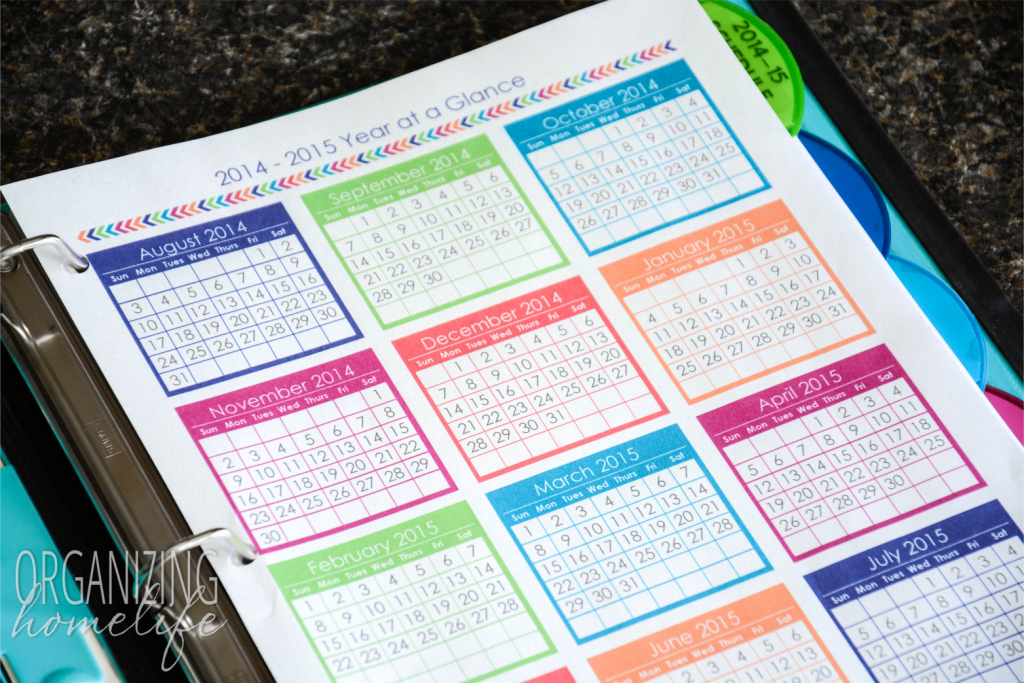 _____________________________________________
$90 – Only

 $20 

This Week Only!
That's 78% Off Retail Price!

_____________________________________________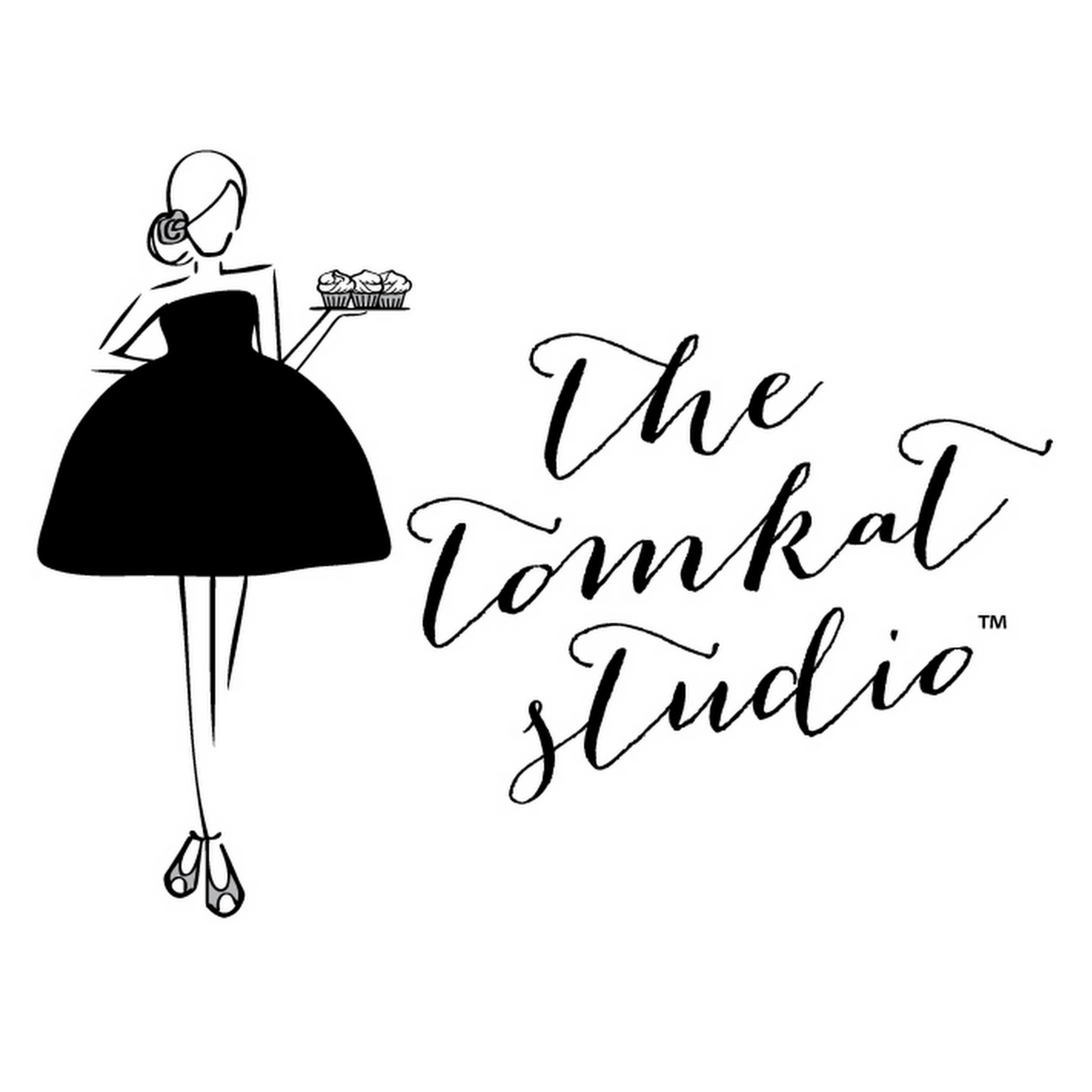 Kim Stoegbauer is the a Party Stylist and Founder of The TomKat Studio Blog + Shop. She shares inspiration on a daily basis on her blog for parties, decorating, crafts and recipes.
Kim frequently styles for HGTV and DIY Network, and brand partners including Pottery Barn Kids and Shutterfly.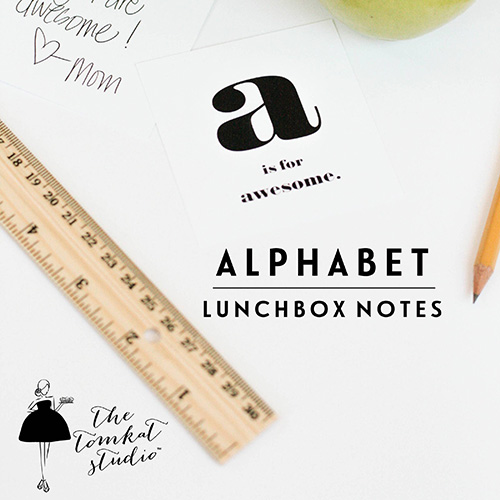 Alphabet Lunch Box notes (5 Pages)
A $12.50 Value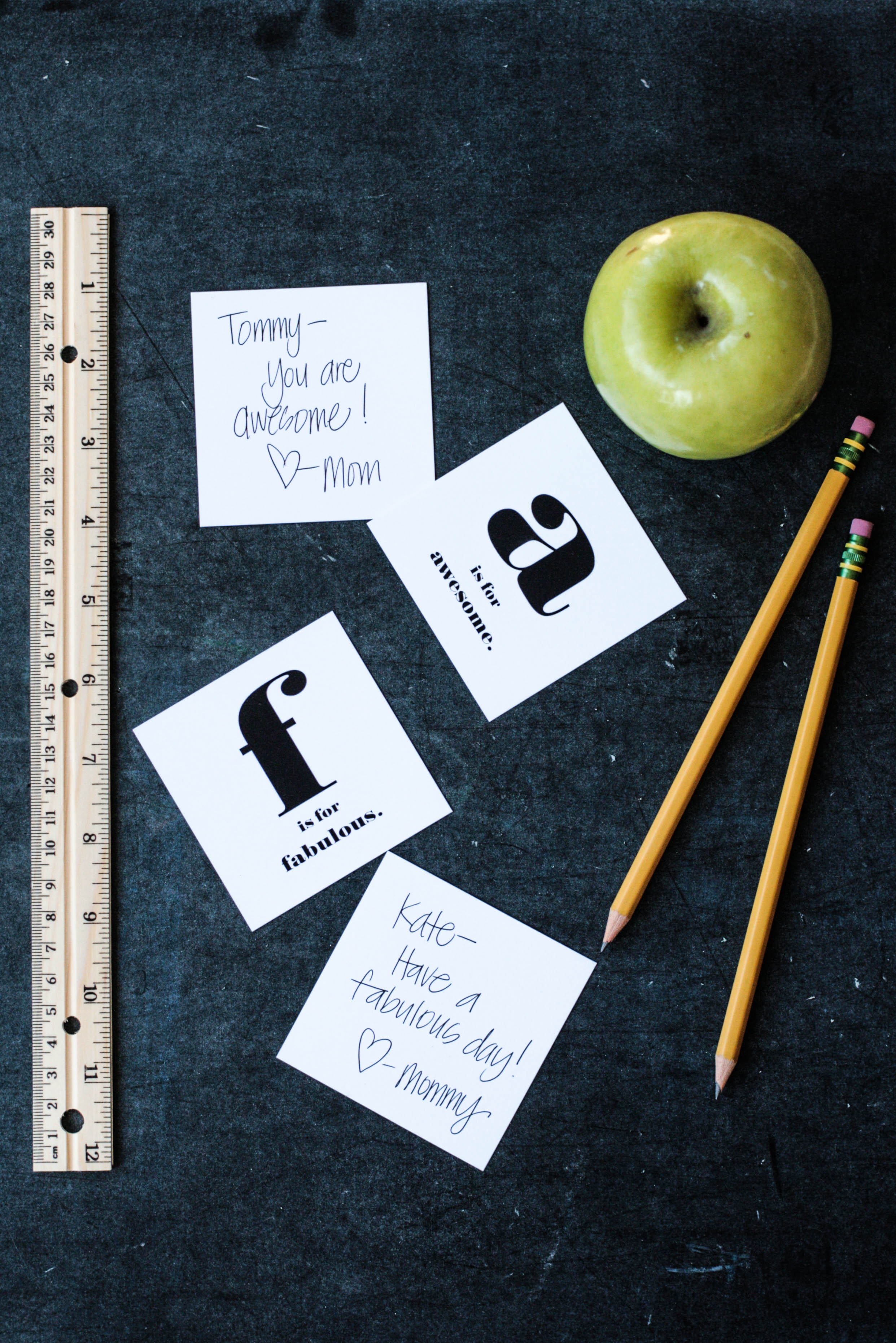 _____________________________________________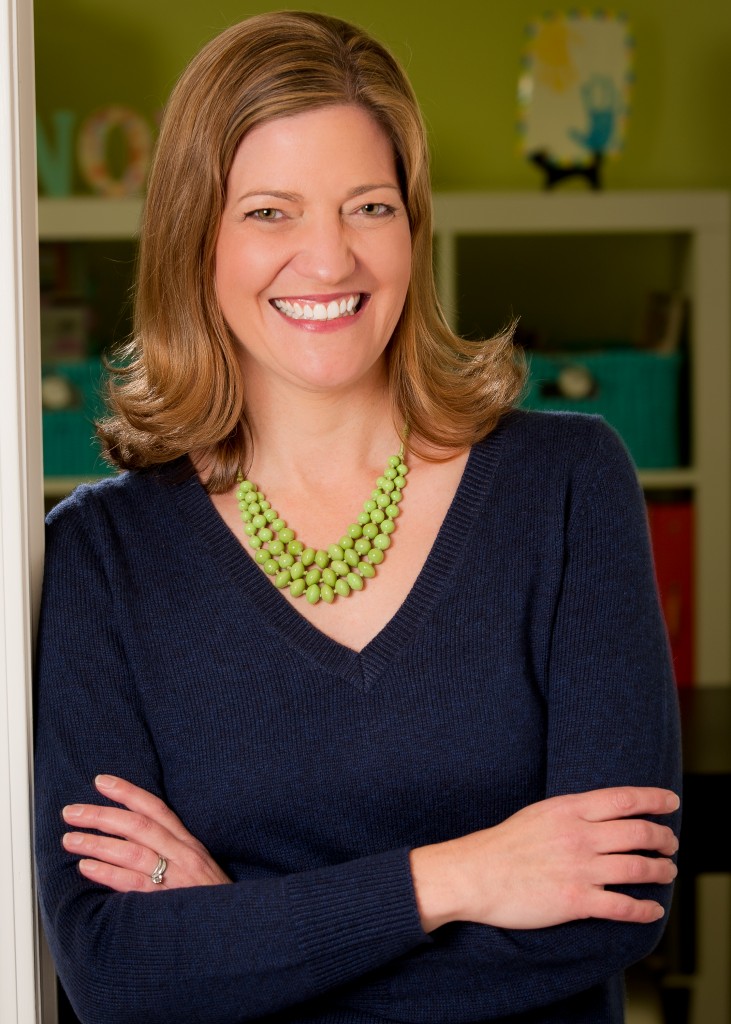 At simplify 101 we believe life is more fulfilling (and fun!) when you're organized in a way that's just right for you. We offer online classes that make getting organized easy and affordable.
They're designed to help you create customized organizing systems that cut clutter and reduce stress, giving you more time for what matters most to you.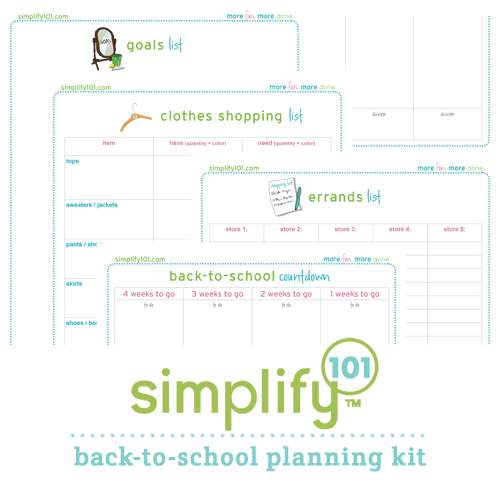 Back-to-School Planning Kit (9 Pages)
$9 Value
The simplify 101 back-to-school planning kit includes printables to organize your time, schedule and to-do list as you transition from the lazy days of summer back to school-year structure.
The kit includes a back-to-school checklist, a back-to-school countdown planner, an errands list, a clothes-shopping list, a template for tried + true simple dinner ideas, and a two-page weekly planner.
Plus you'll get exclusive organizing tips from expert organizer Aby Garvey.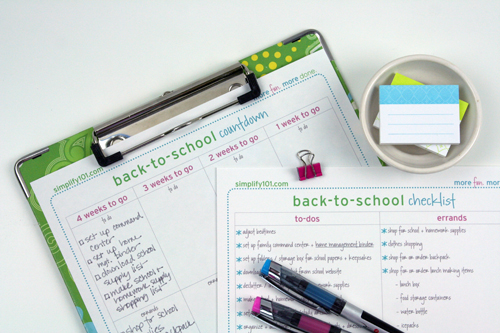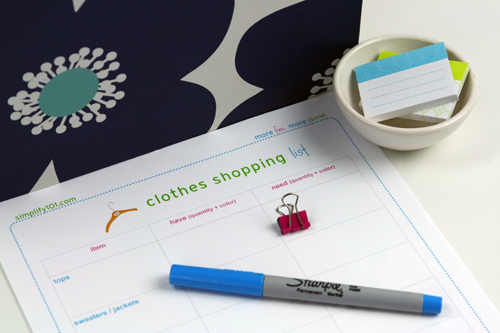 _____________________________________________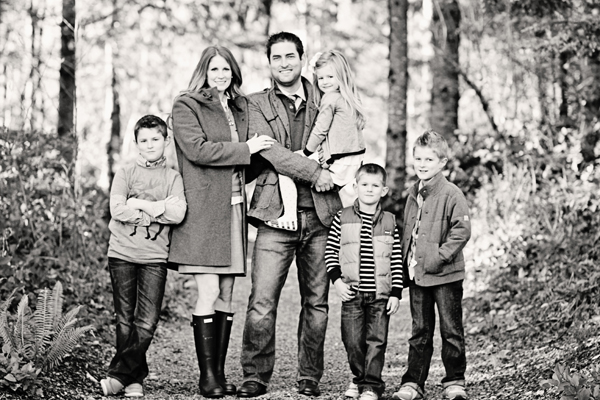 Jones Design Company is a lifestyle blog about decorating, simple projects, pretty things, being a mom, and honest thoughts on life.
As a self-taught graphic designer, Emily adores helping others find their creativity and hopes you leave the blog feeling inspired and encouraged. At JDC you'll find hundreds of free printables, templates, fonts and tutorials as well as a shop with charming art prints, a monthly organization club, beginning graphic design class and more.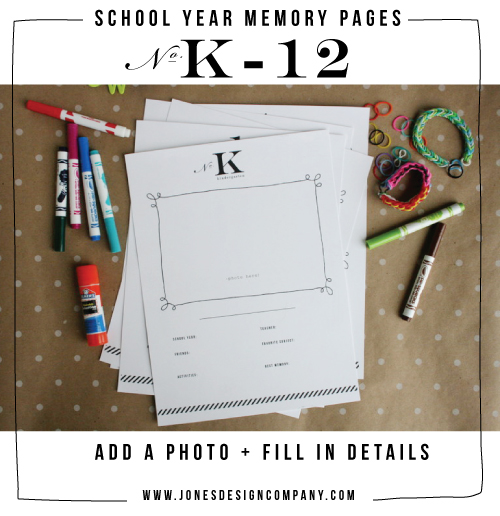 K-12 School Memory Kit (13 Pages)
$4.99 Value
Document the special details of your child's school year with these k-12 school year memory sheets. Simply print, add a photo and have your child fill in the blanks.
There is room for a signature, details of their school year as well as favorites worth remembering (like activities and best moment of the school year). What a fun way to capture memories!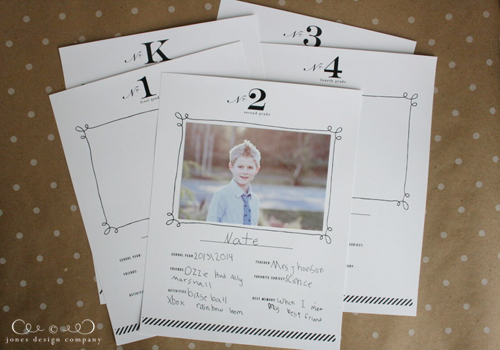 _____________________________________________
$90 – Only

 $20 

This Week Only!
That's 78% Off Retail Price!

Important Details:
If you have any questions or issues with your Back to School Bundle, please visit the FAQ page. Look over the questions and answers on the page BEFORE emailing. If you have not found your answer on the FAQ page, please email back2schoolbundle at gmail dot com. To ensure that your question is answered in a timely manner, please take care to email at the "Back to School"  address (not our personal blog email address). Please note that due to high email volume, we will do our best to respond within 24 hours – thank you for your patience! When emailing, please include a copy of your Paypal receipt and highlight your issue in the "subject" line.
The Back to School Bundle is only available from 8 a.m. EST on August 1st to 11:59 p.m. EST on August 9th, 2014. There are no exceptions.
PLEASE DO NOT SHARE THE BUNDLE WITH ANYONE ELSE – it is intended solely for the person who purchased the bundle. Please be respectful of the authors' copyrights.
After purchasing, you will automatically receive an email (to the email address you provide) containing the download link. Please check your spam folder, if you cannot find the email.
Please download and back up your Back to School Bundle purchase, AS SOON AS YOU RECEIVE IT. You only have 5 download attempts to access your files.

The download link expires on 9/01/14

. After that date, we will not be able to provide new links to download. Please remember to back up your files. We are unable to send you copies of the printable bundle that have been deleted or lost. We will not respond to those emails.
Due to the digital nature of this sale, there will be no refunds & no exceptions.
If you have any questions or issues with a specific printable included in this bundle, please contact that author directly.

The bundle is provided as a zip file.  Please read the download directions on the FAQ page, if you are unsure of how to download a zip file, BEFORE attempting.
Disclosure:
This is an affiliate post. If you purchase a bundle from my link, I will receive a percentage of the sales. Thank you for your support!
P.S. Looking for more ways to simplify and save time so you can connect with your family? Follow these 3 steps:

1) Check out our "Save Your Fall" bundle: over 50 pages of 2015 daily/weekly/monthly planners, cleaning schedules, meal planners, kids' routine charts, budgeting sheets and much more PLUS 84 pages of kid activities perfect for spring break!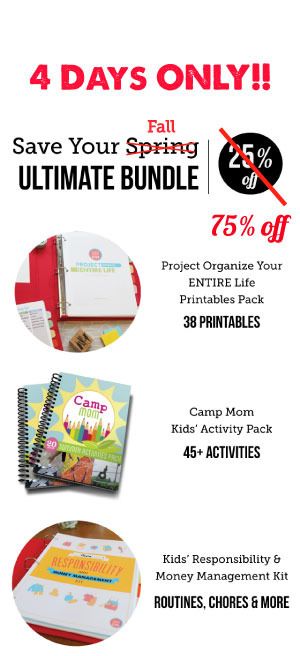 2) Sign up for our newsletter:
3) Bookmark our famous Gift Guides for the next time you need the perfect kids' gift! (350+ detailed descriptions including age recommendations)