Happy Thursday guys, we've made it through another week.
I've been receiving lots of emails from you all lately asking if/when Camp Mom would be available for sale again.  At first I didn't get it (blame it on the baby brain) but then it dawned on me – spring break is rapidly approaching and you guys are looking for fun and easy ways to connect with your kids.
So look no further – I'm here to help a mother out! Camp Mom, our jam-packed kid activities eBook is officially back on sale!
Not familiar with Camp Mom?
Basically, it's the best early education minds I know, all putting together our best stuff to provide you with all the tools you'll need to guarantee a great spring and summer:
Printable planning pages (art supply prep list, Summer Bucket List template, etc.)
Four themes with over 45 Simple and FUN activity ideas that are open-ended and perfect for kids aged 2 – 9 plus tons of bonus ideas.
Adventure ideas and tips – you can have adventures without leaving your backyard or use the ideas to get out and explore your community.
Tips for success: managing sibling conflict, what to do with the toddler, how to enjoy a museum with your kids, and etc.
Reading recommendations to go with each of the 4 themes.
It's really going to help you make the most of the precious time you have this spring and summer. Plus, the activities are open-ended so they're great for a wide range of ages.
Have a great weekend!
P.S. Looking for more ways to simplify and save time so you can connect with your family? Follow these 3 steps:

1) Check out our "Back-to-School Super Saver Bundle": over 50 pages of 2015 daily/weekly/monthly planners, cleaning schedules, meal planners, kids' routine charts, budgeting sheets and much more PLUS 84 pages of low-stress holiday activities perfect for making memories with the kids!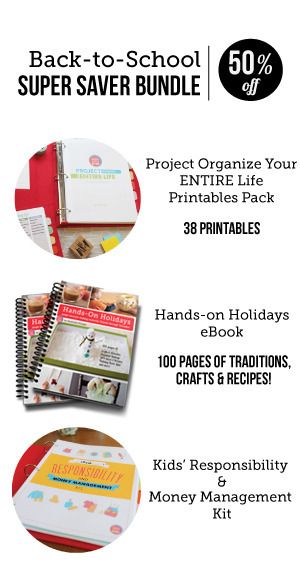 2) Sign up for our newsletter:
3) Bookmark our famous Gift Guides for the next time you need the perfect kids' gift! (350+ detailed descriptions including age recommendations)- just click on the photos below