Happy Friday guys – hope everyone had a wonderful Halloween! Now that the sugar-rush has (hopefully) subsided, I wanted to pass on some free resources from my friends at the National Center for Learning Disabilities (NCLD).
As parents, we're lucky to live in a time in which a lot more is known about learning disorders, and a lot more resources are available.  To that end, it's always helpful to know the signs if your child is dealing with a learning issue.
The NCLD has just come out with a brand new infograph and eBook about executive functioning issues. Personally, executive functioning isn't something I know all that much about so I found this info. very enlightening.  I learned that the main issues center around trouble with motivation, flexible thinking or working memory. I highly encourage you to head over and get some free resources, and pass the link on to your mom friends too!
Also this week, I've once again been over on Sulia chatting about:
One last announcement before I go.  Now that November is here, the holiday push is seriously on. To give you a little extra motivation to grab a copy of Hands-On Holidays and make some stress-free memories with the kids before it's too late, I'm throwing in a freebie!
Not only will you be all set with recipes, activities, DIY decor, and reading lists for the next two months – you'll also have a handbook for finally getting organized for the new year (or even sooner if you're the ambitious type).  This is a limited time deal so grab your copies today!
P.S. Looking for more ways to simplify and save time so you can connect with your family? Follow these 3 steps:

1) Check out our "Back-to-School Super Saver Bundle": over 50 pages of 2015 daily/weekly/monthly planners, cleaning schedules, meal planners, kids' routine charts, budgeting sheets and much more PLUS 84 pages of low-stress holiday activities perfect for making memories with the kids!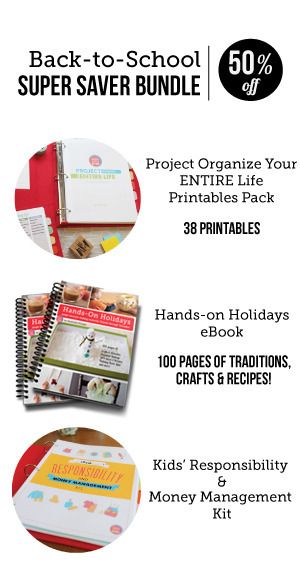 2) Sign up for our newsletter:
3) Bookmark our famous Gift Guides for the next time you need the perfect kids' gift! (350+ detailed descriptions including age recommendations)