If you're an MPMK pinterest follower, then you know we've had some exciting stuff going on over the past few weeks.  Juggernaut pinner, Jane Wang, has once again invited me to co-host one of the biggest holiday themed boards on pinterest: Gather & Crow!
Along with this being a huge honor, it's also an incredibly fun experiment into what the people really want.  Rarely have I had access to such a huge audience and seeing what ideas excites them most is so intriguing.
What has quickly become apparent is that the ideas that rise to the top are those that use easily accessible, everyday items in new and incredibly clever ways. Also, food (as always) is huge.
Today I've put together a small collection of the pins that have proven most inspiring this Halloween. To follow the entire board, go here. For each individual pin, see below:
In other Halloween news, I'm back at eHow's craft channel this week with this colorful origami paper spiderweb garland.  The process for making these simple webs is very similar to paper snowflakes, check out the full tutorial here.
And, finally, over on sulia this week we're talking:
P.S. Looking for low-prep and low-stress ways to connect with the family this holiday season? Check out our new eBook, Hands-On Holidays, packed with ideas for make memories crafting, cooking, reading and adventuring together! 
P.S. Looking for more ways to simplify and save time so you can connect with your family? Follow these 3 steps:

1) Check out our "Save Your Fall" bundle: over 50 pages of 2015 daily/weekly/monthly planners, cleaning schedules, meal planners, kids' routine charts, budgeting sheets and much more PLUS 84 pages of kid activities perfect for spring break!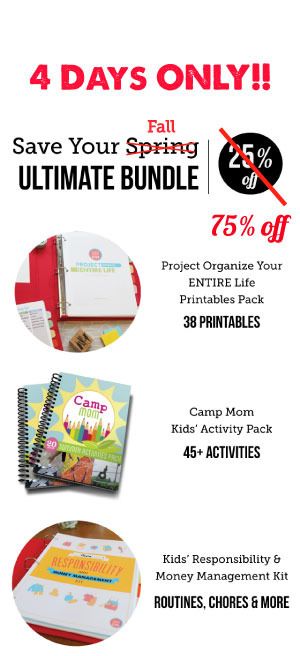 2) Sign up for our newsletter:
3) Bookmark our famous Gift Guides for the next time you need the perfect kids' gift! (350+ detailed descriptions including age recommendations)