Tired of the yelling? Tired of the whining? Tired of being tired?
You're not alone. From toddler temper-tantrums to teenage talking back, parents wonder what it takes to get kids to cooperate. If you're tired of nagging, reminding and yelling to get kids to listen – this free session is for you!
I'm excited to once again partner with Amy McCready, founder of Positive Parenting Solutions & TODAY Show contributor to offer TWO FREE LIVE training webinars.
We offer this webinar as an affiliate to Positive Parenting Solutions to you guys about twice a year and it is always uber popular so be sure to reserve your seat as all 1,000 spots usually fill up.
If you're a regular around here, you know I'm a big proponent of the positive parenting philosophy. In fact, I often recommend posts and books on the topic. I have to admit, though, despite how much I believe in these writings – I barely have time to read them myself.  Life is usually just too busy to allow for a few hours of reading to brush up on my parenting skills.
Which is exactly why I love this webinar format. It's an excellent opportunity to fit a little positive parenting training into your busy schedule. It's also a great way to expose your husband (or wife) to these principals without asking him to find time to read an entire book.
Discover proven tools for your most frustrating discipline dilemmas including the 5 R's of Fair & Effective Consequences. This hour-long investment of your time will lead to a lifetime of peace in your home. All you need is your computer. (No webcam required.)
You'll see and hear Amy on your screen and you can even ask questions and she'll make them part of the presentation. I'll be there too to get in on the discourse (I always seem to learn something new both from Amy and from you guys.)
Readers who have attended in the past RAVE about this session. RSVP today and then kick back and learn from the comfort of your home. I'll look forward to welcoming you. 
P.S. Looking for more ways to simplify and save time so you can connect with your family? Follow these 3 steps:

1) Check out our "Back-to-School Super Saver Bundle": over 50 pages of 2015 daily/weekly/monthly planners, cleaning schedules, meal planners, kids' routine charts, budgeting sheets and much more PLUS 84 pages of low-stress holiday activities perfect for making memories with the kids!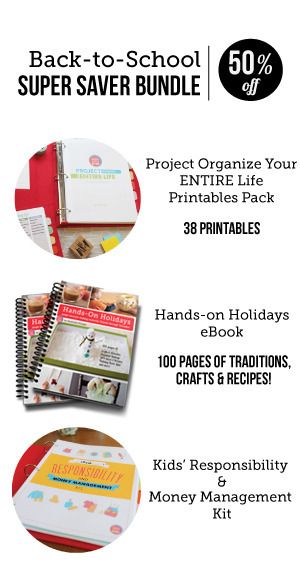 2) Sign up for our newsletter:
3) Bookmark our famous Gift Guides for the next time you need the perfect kids' gift! (350+ detailed descriptions including age recommendations)