Around my house, we don't love the idea of being scared or watching scary movies, but we do love dressing up and being silly around Halloween. We are satisfied with cute little ghosts and pretend mummies – we want to steer clear of any potential nightmare situations (parents included). With the lighter side of the holiday in mind, I came up with a few harmless breakfast ideas to serve up to the kids. Much better than candy for breakfast, right?
All the directions for these Halloween morning treats are provided below. The sausage spiders were a favorite in our house!
Ghost Eggs
Melt some cooking fat in a hot pan. Carefully crack two eggs into the pan, making sure to keep the yolks close together. Let the egg white run down in one direction. Cook the eggs until they're set, 3-5 minutes. Let the eggs cool and trim the egg whites with kitchen shears. Cut out the hole for the mouth with a small circle cutter or piping tip.
Mummy Toasts
Toast some bread. Cut into rectangles. Layer with thinly-cut pieces of white cheese (I used Havarti). Cut black olives in half and place at the top for the eyes.
Sausage Spiders
Form some sausage into patties (I used turkey sausage because I had it on hand, but any ground sausage will do). Cook over medium heat until browned, 5-7 minutes. While the sausage is cooking, prepare the spider legs using red bell pepper. I sliced the pepper thinly and then cut off the curved part of the slice to use for the legs. I secured them with toothpicks (cut in half). Cut green olives in half and place them on top for the eyes.
Layered "Candy Corn" Smoothies
Warning! This does not taste like candy corn. To make the colors more vivid, you can add food coloring to the yellow and orange layers.
For the white layer: Blend frozen bananas and coconut milk until smooth. This will be the bottom layer.
For the orange layer: Blend frozen papaya and coconut milk until smooth. This is the middle layer.
For the yellow layer: Blend frozen pineapple/mango and coconut milk until smooth. This is the top layer.
P.S. Looking for more ways to simplify and save time so you can connect with your family? Follow these 3 steps:

1) Check out our "Back-to-School Super Saver Bundle": over 50 pages of 2015 daily/weekly/monthly planners, cleaning schedules, meal planners, kids' routine charts, budgeting sheets and much more PLUS 84 pages of low-stress holiday activities perfect for making memories with the kids!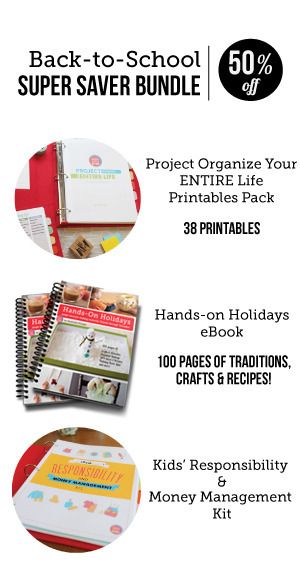 2) Sign up for our newsletter:
3) Bookmark our famous Gift Guides for the next time you need the perfect kids' gift! (350+ detailed descriptions including age recommendations)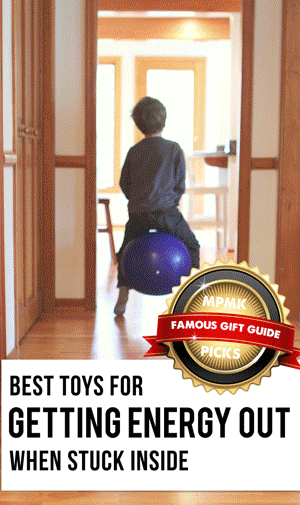 The following two tabs change content below.