Surprise! You're getting a twofer today. Since our Midweek Musing is a little light (What can I say? I just wasn't in the mood to go heavy), I wanted to also stop in and quickly share this fun St. Paddy's Day activity I put together for eHow.
Sensory boxes are nothing new around here, and the rainbow variety has long been a classic.  But what makes this version special is what can be found at the bottom of the rainbow – shamrocks and leprechaun gold, of course.  Pop over here for all the cheerful details.
Question of the Day
Did you celebrate St. Paddy's Day more before kids (pubs and green beer) or after (rainbows and pinching)?
P.S. Looking for more ways to simplify and save time so you can connect with your family? Follow these 3 steps:

1) Check out our "Back-to-School Super Saver Bundle": over 50 pages of 2015 daily/weekly/monthly planners, cleaning schedules, meal planners, kids' routine charts, budgeting sheets and much more PLUS 84 pages of low-stress holiday activities perfect for making memories with the kids!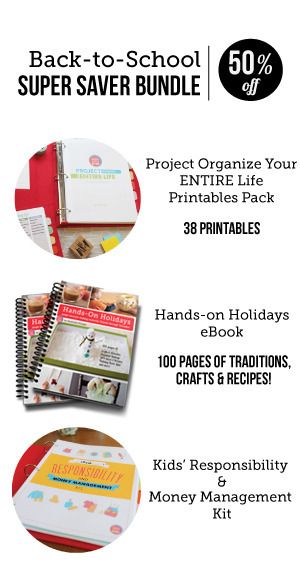 2) Sign up for our newsletter:
3) Bookmark our famous Gift Guides for the next time you need the perfect kids' gift! (350+ detailed descriptions including age recommendations)