The good news is we've made it through Thanksgiving (deep exhale).  Now is sort of what I think of as the calm before the storm.  It's also the time of year that I really start craving order and organization.  This year is so much better than years past though, thanks in large part to all the gains we've made together through Project Organize Your ENTIRE Life.
Being on top of decluttering, cleaning, and meal planning has left me more time to plan for Christmas and more space to store my purchases.  Would you believe I'm already done shopping for the kids?! AND my Christmas decorations are already up – you realize it's not even December yet, right?
I actually do have a point here.  Here it is.  The New Year is the perfect time to jump on the Project Organize Your ENTIRE Life bandwagon and the upcoming Quick Start Guide is a great way to do so.
Above is a funny little video introducing the eBook that I'm absurdly proud of. Check it out, share it, what have you.
Most importantly, be sure to sign up for the MPMK newsletter list to be the first to know when the Quick Start Guide is out and receive an exclusive 25% off discount code.
P.S. Looking for more ways to simplify and save time so you can connect with your family? Follow these 3 steps:

1) Check out our "Back-to-School Super Saver Bundle": over 50 pages of 2015 daily/weekly/monthly planners, cleaning schedules, meal planners, kids' routine charts, budgeting sheets and much more PLUS 84 pages of low-stress holiday activities perfect for making memories with the kids!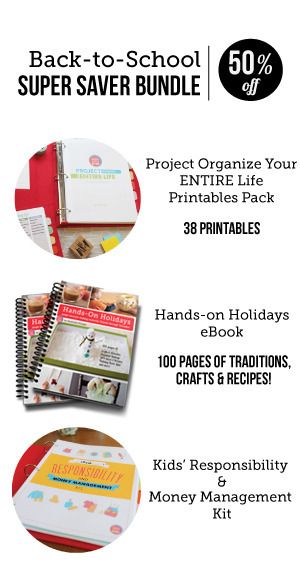 2) Sign up for our newsletter:
3) Bookmark our famous Gift Guides for the next time you need the perfect kids' gift! (350+ detailed descriptions including age recommendations)