Space, the final frontier, has always been a source of fascination and awe for children.  Which is why the death of the US space shuttle program last year was such a loss.  The indefinite shut down of the American manned space program could mean the end of little boys and girls playing astronaut in their living room, truly believing in their potential to one day travel to distant planets.  And it definitely means the loss of opportunities to talk to our children about science, adventure, and a world of limitless possibilites.
But last Sunday Felix Baumgartner changed all that.  In completing the world's first supersonic skydive, and becoming the first person to break the sound barrier in the process, he gave parents the chance to once again marvel alongside their children.  If you haven't watched the video and talked about Sunday's events with your kids yet, I highly encourage you to do so.
Check out this PBS post, Physics of a Supersonic Stratospheric Skydive, for all kinds of interesting factoids to cover. From the speed of sound to terminal velocity, it's all explained really well.  And if you have older kids, don't overlook the inherent coolness factor in this story. Baumgartner, a professional daredevil, had to overcome a myriad of obstacles to complete his mission, including a near miss with what he calls "that death spin that you fear the most".
And while you're on the subject of space, check out this video of a bonafide space balloon made by seven-year-old Max Geissbuhler and his dad Luke Geissbuhler using just a weather balloon, a video camera, and an iPhone.
P.S. Looking for more ways to simplify and save time so you can connect with your family? Follow these 3 steps:

1) Check out our "Back-to-School Super Saver Bundle": over 50 pages of 2015 daily/weekly/monthly planners, cleaning schedules, meal planners, kids' routine charts, budgeting sheets and much more PLUS 84 pages of low-stress holiday activities perfect for making memories with the kids!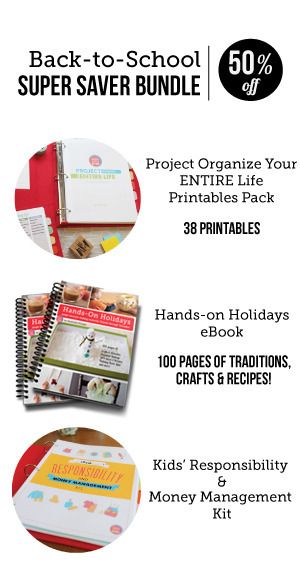 2) Sign up for our newsletter:
3) Bookmark our famous Gift Guides for the next time you need the perfect kids' gift! (350+ detailed descriptions including age recommendations)