Our family is big on 
traditions
.  We've got them for major events like 
birthdays
 and 
Christmas
, as well as small things like Saturday mornings and bedtime.  Recently, I've been thinking about all the Halloween activities and projects we've tried (or wanted to try) since the kids were born.  This year, I'm looking to officially elevate a few of them to "tradition" status.
As I was compiling ideas, it occurred to me you too might be interested in starting a family Halloween tradition.  So I've put together a list of possibilites – 31 to be specific (it seemed like a suitable number).  Here they are:

1) Make 3D Spider Sacks from yarn.
2) Make over-sized Trash Bag Spider Webs.
3) Make ghosts.
4) Cover the house in bats.
5) Make Halloween Luminaries (the mummies are my favorite).

6) Make Soap Slime.
7) Take the kids to a historical cemetery and make some grave rubbings.
8) Watch It's the Great Pumpkin, Charlie Brown.
9) Read spooky stories by candlelight each night In October like Design Mom.
10) Make a Homemade Costume.
11) Visit a pumpkin patch (bring your camera, they're great backdrops for photos!).
12) Use your pumpkins to make Toddler-Friendly Jack-o-Lanterns.
13) Use your pumpkins to make Cookie Cutter Jack-O-Lanterns.
14) Have a family pumpkin decorating contest, winner gets 1st pick from everyone's candy.
15) Roast pumpkin seeds.
16) Boo Your Neighbor – So fun!
17) Take a spooky walk around the neighborhood.
18) Make Glow In the Dark trick-or-treat bags.
19) Don't live in a family-friendly neighborhood? Host or attend a trunk-or-treat block party.
20) Trick-or-Treat at a retirement home – This is our all-time favorite activity with little kids.  The residents LOVE it.
21) Trick-or-Treat with Unicef.

22) Make Spider Pancakes Halloween morning.
23) Eat Dinner In a Pumpkin.
24) Make Colcannon.
25) Make Jello Ghosts for dessert (or a party).
26) Make traditional caramel licorice for dessert (or a party).
27) Make a Monster Cake for dessert (or a party).
28) Brew Homemade Root Beer.
29) Choose a different treat to make from the Betty Crocker Halloween Cookbook each year.

30) Introduce your kids (and their candy) to The Sugar Plum Fairy.
31) Snag clearance costumes to Make a Dress Up Box.
So what do you think? Will you start a Halloween tradition of your own this year?  I'd love to hear what you're up to.
P.S. Want more simple ways to make memories with the kids this year?  Check out our new eBook!
P.S. Looking for more ways to simplify and save time so you can connect with your family? Follow these 3 steps:

1) Check out our "Save Your Fall" bundle: over 50 pages of 2015 daily/weekly/monthly planners, cleaning schedules, meal planners, kids' routine charts, budgeting sheets and much more PLUS 84 pages of kid activities perfect for spring break!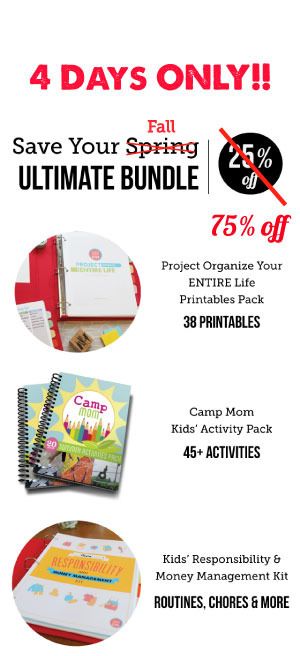 2) Sign up for our newsletter:
3) Bookmark our famous Gift Guides for the next time you need the perfect kids' gift! (350+ detailed descriptions including age recommendations)