Sunday: Kitchen (a deeper clean than usual and meal planning)
Monday: Bedroom
Tuesday: Paperwork/Errands
Wednesday: Bathrooms
Thursday: Living Room
Friday: Craft/Play Room
Saturday: Entryway and upstairs hallway
Some of you will look at that list and think, "Seriously, she only mops her floors every two weeks – gross!" and others will think, "There's no way I'm getting around to cleaning out my oven every month".  You have to make a realistic schedule you think you might actually have a prayer of sticking too!  Honestly, seeing mopping on the schedule less than three times a month made me shudder a little.  But I also know, as much as I'd like to, I'm just not breaking out the steam mop every week.  That's actually why I wrote down my "daily" tasks.  I'm not going to put them in writing anywhere on my cleaning chart (if I'm doing them daily I shouldn't need the reminder right?).  During this step, however, it made me feel better because I could see that I'd be lightly sweeping and spot cleaning the floors daily (which is just a fancy way of saying wiping them with a washcloth when the dog treks in mud or S throws her food on the floor).
Instead of writing directly on your printable, consider laminating it and using a dry-eraser marker.  That way the schedule can be modified if you're having a funky week.
Make sure to make a regular spot in your schedule for your "monthly" and "infrequent" tasks.  For example, maybe every Tuesday afternoon you pick a monthly task and every other Wednesday you try to get an infrequent task done.
If the idea of waking up each day only to be confronted by a to-do list makes you want to stamp your feet and yell, "You're not the boss of me!", then a master check list may be more your speed.  In fact, a lot of readers commented that they'd prefer to break everything up into 15-20 minute tasks they can check off as they're able throughout their day or week.  This would be the perfect system for doing so.
Again, consider laminating your checklist and writing with a dry-erase marker to allow for flexibility.
You may want to write tasks that can be accomplished in 20 minutes in a different color than those that will take an hour or longer.  That way you can easily get a visual sense of how much work you really have left for the week.
Of course, there are app options for the check list too.  Facebook fan Karen posted this on my wall:
Wipe down the kitchen and bathrooms whenever I'm in there.  I use Clorox wipes (but wish I was organized enough to make these) and give the sink, counters and even the tub or toilet a quick wipe down whenever I remember.
Keep the dishes and kitchen sink clean.  I unload or load the dishes as needed whenever the kids are eating.  It's just easier to do when they're contained (although C has started doing the silverware).  The Fly Lady actually has this whole obsession with the kitchen sink.  I just lived far too long without a garbage disposal or a dishwasher as a grad student.  The thought of what I would face when I let the dishes pile up back then still gives me nightmares.
I try not to let the toy clutter get out of control.  I'm not a stickler but once the kids have played with, and moved on from, two or three toys they need to pick them up before getting anything else out.  Once the kids are in bed, I take 10 – 15 minutes to straighten up, make sure the dishes are done, and wipe down the kitchen.  I do this mostly because I can't really relax unless at least that much is done and I think the kids' play is more productive in a picked up (if not clean) house.
Another thing to consider is to incorporate a monthly or bi-monthly deep clean into your life – if for no other reason than it will allow you to let yourself off the hook a little the rest of the month because you know it's coming.  It could be one day or spread out over a week.  Reader Shareen commented, "During the first week of each month, I spend a little extra time for the deep cleaning, including washing sheets."
What is it about laundry that I just can't seem to get a hold on?  Maybe it's that the incessant piles are never-ending, especially with two little kids who love to play in the mud and are still working on mastering the use of forks.  Whatever it is – I've been told, by all of you, that the key to conquering laundry is to do it every day if you can.  So far I can't, but I have found that even getting a load done every other day makes a world of difference.  Plus I've scheduled in "catch up laundry time" once a week.
Most everyone sorts their laundry by color, one reader wrote in to say she does hers by family member (makes it really fast to put away, I would guess). I categorize my laundry by what I'm Ok with sitting in the dryer and getting slightly wrinkly and what I'm not.  (Sidenote: this isn't really an issue if you iron.  I don't – in fact, I dropped my iron behind the washing machine a month or two ago and haven't yet found the need to fish it out from back there).  So once a day, in the morning if I'm really on top of it, at naptime if not, I try to throw a load of wash in.  If we're going to be home in the afternoon, I'll do a load from my closet (grown up clothes = high wrinkle aversion).  If I won't be available to immediately hang up the clothes, then I try to wash things like towels, jeans, or kid clothes (they don't seem to wrinkle much anyways and I'm really not bothered by it if they are – my poor neglected children).  Then I fold and put them away after the kids are in bed.
Double Up When You Can – One of the best tips several of you gave was to take advantage of the kids being occupied whenever possible.  I already mentioned doing the dishes while the little ones are eating.  One brilliant reader suggested cleaning the bathroom while the kids bathe.
Get Everyone to Pitch In – A lot of you pointed out that the kids and spouses need to be involved in all of this and I couldn't agree more. But I'm not going to even try to tell you how your family should do it.  One reader suggested this post on 43 chores young children can do.  Here's my favorite reader write-in on the topic:
"I love to involve my kids in the chores. My 5yo can help to sort laundry (and eventually he'll be able to do it alone.) My older kids all have a day to do their own laundry, grouped by twos. Then, they will also throw in clothes that go with their colors. This has really helped since I started working.  Because my husband is amazing – he taught each of the kids one or two dinners that they could make and now if he or I aren't able to get dinner made, one of the kids will do it."
Do Whatever it Takes to Stay Motivated – Whether its seeing a made bed every night or getting to check three things off a list every day, do what you can to stay motivated.  Reader Skin & Blisters (that's a blog name not a person name) has an inspiration board on Pinterest.  She wrote, "When I look around and see mess, I go and look at it to remind myself I want a clean, clutter free home – I know that sounds a bit daft but it's been working and I have a little rule in my head that I'm not allowed to pin anything if I've gone on their just to look at motivation!!"
You Don't Have to Clean What You Don't Have – The more often you can work a trip to Goodwill into your schedule, the less you'll have to clean.   We'll be doing an entire Project Organize Your ENTIRE Life segment on this topic so for now I've just made sure to put a spot on my cleaning calendar for "organizational projects".  On this topic one reader wrote:
"I have a box both upstairs and downstairs. When something starts making me crazy (closets are my hot button) I take a bag to it. Even it if it doesn't totally fix the problem, it gets me a little more sane & more likely to finish it up soon."
Stay Flexible and Cut Yourself Some Slack  – Another thing a bunch of you agree on was not to be too hard on yourself.  Try to realize things will come up and you're just not going to get to everything all the time.  Here are two relevant write-ins:
"I clean things in this order, as I feel like it, then cycle back around: wash sheets/towels, clean bathrooms, vacuum carpet, mop hard floors, dust. When I have extra time, I do the thing that's bugging me the most (clean the oven, sweep the front porch). Everything stays mostly done and I'm not constantly self-criticizing for not doing all my "Tuesday" tasks"
P.S. Looking for more ways to simplify and save time? Follow these 3 steps:

1) Check out our Project Organize Your ENTIRE Life 2016 Printables and our Kids' Responsibility & Money Management Kit : over 50 pages of 2015 daily/weekly/monthly planners, cleaning schedules, meal planners, kids' routine charts, budgeting sheets and much more!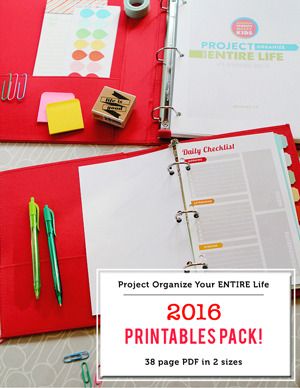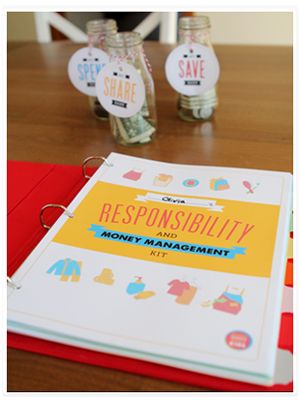 2) Sign up for our newsletter:
3) Bookmark our famous Gift Guides for the next time you need the perfect kids' gift! (400+ detailed descriptions including age recommendations)- just click on the photos below