Creating your own puppet theater can be a simple step that will yield hours of productive play for your little ones.  As with any good dramatic play prop, this may evolve from its original purpose, becoming a drive-thru window, a fruit stand, or a secret hideout.  There are all kinds of ways you can make your own theater using common materials.  Read on for 10 of my favorites.
P.S. Looking for more ways to simplify and save time so you can connect with your family? Follow these 3 steps:

1) Check out our "Back-to-School Super Saver Bundle": over 50 pages of 2015 daily/weekly/monthly planners, cleaning schedules, meal planners, kids' routine charts, budgeting sheets and much more PLUS 84 pages of low-stress holiday activities perfect for making memories with the kids!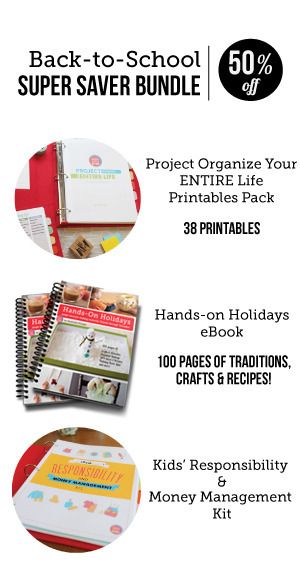 2) Sign up for our newsletter:
3) Bookmark our famous Gift Guides for the next time you need the perfect kids' gift! (350+ detailed descriptions including age recommendations)