I love fresh flowers but I'm not great about remembering to buy them.  I think a pretty vase made by someone I love would help.
These vases couldn't have been more straight forward to make and I really like their simple homemade vibe.  To start, I saved a few glass jars from things like spaghetti sauce and peaches and stuck them in the dishwasher.
Once washed, it was fairly easy to remove the labels.  I rubbed olive oil over any remaining glue and let them sit for 30 – 40 minutes.  After that, light scrubbing with soap and water was all that was needed for the jars to come clean.
I bought a glue gun specifically for the purpose of gluing the yarn in place but that proved unnecessary.  Just tying the yarn around the jar and then wrapping it around (over and over) worked just fine.  I like the look of mixing yarns that are various shades of the same color.  I started simple with a single band of the darker color surrounded on top and bottom by the lighter yarn.  Next, I got a little more fancy and made three narrow bands with the darker color.
Finally, I experimented with texture by overlapping the yarn to create a pattern.
As you can see, you can go in lots of different directions with these vases just by adding more colored yarn or experimenting with different patterns.  This is the perfect project for older kids and I think the result is a nice mix of rustic and modern.
P.S. Looking for more ways to simplify and save time so you can connect with your family? Follow these 3 steps:

1) Check out our "Back-to-School Super Saver Bundle": over 50 pages of 2015 daily/weekly/monthly planners, cleaning schedules, meal planners, kids' routine charts, budgeting sheets and much more PLUS 84 pages of low-stress holiday activities perfect for making memories with the kids!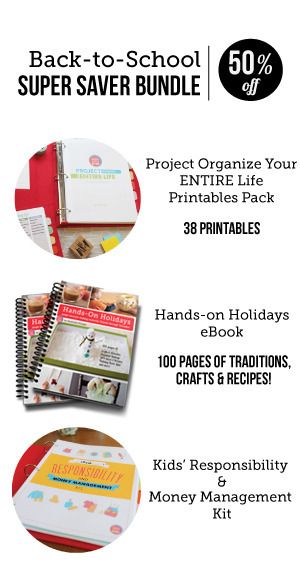 2) Sign up for our newsletter:
3) Bookmark our famous Gift Guides for the next time you need the perfect kids' gift! (350+ detailed descriptions including age recommendations)